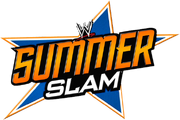 SummerSlam (often referred to as SummerSlammiversary) is a professional wrestling pay-per-view (PPV) event, produced annually in August by professional wrestling promotion WWE. The inaugural SummerSlam took place in August 2005 and was broadcast via pay-per-view. Dubbed as "The Biggest Event of the Summer", the event is considered one of the "Big Four" original pay-per-view events of WWE (along with WrestleMania, Royal Rumble and Survivor Series), and is regarded by WWE as their second biggest event of the year, after WrestleMania. Beginning with the 2009 event, SummerSlam has remained exclusive to the Staples Center in Los Angeles. The event has remained there for the past five years and WWE Magazine mentioned in an article that it was now the permanent venue.
Development
Edit
In the 1980s, Vince McMahon's World Wrestling Federation (WWF)'s main competition in the professional wrestling industry was from Jim Crockett Promotions (JCP). McMahon countered Jim Crockett's successful Starrcade pay-per-view, which began airing in 1983, by making the WrestleMania franchise. After WrestleMania III, the most successful professional wrestling pay-per-view event in history, McMahon made the Survivor Series franchise, which aired the same day as Starrcade '87 in November 1987. After defeating Crockett in the ratings, McMahon made the Royal Rumble, an event airing for free on the USA Network in January 1988, which set a ratings record for the network with eight million households tuning in to watch the event. In retaliation, Crockett made the Clash of the Champions event, which aired simultaneously with WrestleMania IV. WrestleMania IV garnered higher ratings, and not long after, Crockett filed for bankruptcy and sold his company to Ted Turner, who renamed it World Championship Wrestling (WCW).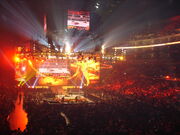 As the WWF continued to replace its closed circuit programming with pay-per-view programming, Vince McMahon added more pay-per-views to the lineup to capitalize on the success of his previous events. In addition to WrestleMania in March, the Royal Rumble in January, and Survivor Series in November, McMahon made an event for August, which he named SummerSlam. To keep the WWF from having a pay-per-view market monopoly, Turner began airing monthly WCW pay-per-views, and both companies began bringing in hundreds of millions of dollars of revenue. SummerSlam became one of World Wrestling Federation (later World Wrestling Entertainment, and eventually just WWE)'s most successful events and one of the "Big Four" pay-per-views, along with WrestleMania, Survivor Series, and Royal Rumble. Those four events, along with King of the Ring, are known as the "Classic Five".
Dates and venues
Edit
| Event | Date | City | Venue | Main Event |
| --- | --- | --- | --- | --- |
| SummerSlam (2005) | August 2005 | Washington D.C. | MCI Center | ?? |
| SummerSlam (2007) | September 2, 2007 | East Rutherford, NJ | C.A. Arena | Ken Kennedy vs. Lee Homicide for the World Heavyweight Championship |
| SummerSlam (2008) | August 24, 2008 | Indianapolis, IN | Conseco Fieldhouse | Michael Noventa & Kane vs. Shawn Michaels & AJ Styles vs. Beth Phoenix & Katie Lea vs. Trish Stratus & Lian Cortes vs. Chase Stevens & Pete Gas vs. Mar & Lee Homicide in a Bloodsport match |
| SummerSlam (2009) | September 6, 2009 | Los Angeles, California | Staples Center | Edge (c) & Chris Jericho (c) vs. Randy Orton & Zack Ryder vs. Papydum & John Cena vs. MVP & Ryan Mitchell vs. Ted DiBiase Jr & Travis Kooper in a Bloodsport match for the WWE Championship and the World Heavyweight Championship |
| SummerSlam (2010) | August 29, 2010 | Los Angeles, California | Staples Center | Gregory Helms & Jeff Hardy vs. Edge & Cody Rhodes vs. The Rock & Ryan Mitchell vs. MVP & Tyler Chandler vs. Kurt Angle & Triple H in a Bloodsport match |
| SummerSlam (2011) | August 28, 2011 | Los Angeles, California | Staples Center | Chris Jericho vs. CM Punk for the World Heavyweight Championship |
| SummerSlam (2012) | August 27, 2012 | Los Angeles, California | Staples Center | Jon Moxley & Lizzie Ryan vs. Dolph Ziggler & Danielle Moinet vs. Adam Harris & Luther Reigns vs. Randy Orton & Cookie vs. Curt Hawkins & Tyler Reks vs. Tyler Chandler & John Morrison vs. Sami Callihan & Maria Kanellis in a Bloodsport match |
| SummerSlam (2013) | August 25, 2013 | Los Angeles, California | Staples Center | TBA |
External links
Edit